Bird Rib
is currently available to own on limited edition orange 175g vinyl.
Order online here.
Leah Kardos is a visionary in the Bowie tradition
Tony Visconti - Dec 2019
one of the most heartwarming feelgood albums of the year
Bob Fischer's review of Stylophonika in issue 84 of Electronic Sound magazine (Dec 2021)
From the processional opening "Incantation" to the coda of "Sleep Modes," Kardos creates a singular musical journey... In Wolk-Lewanowicz she has found a superb vocalist whose ease in many styles is a perfect match to Kardos's own genre-smashing approach. Her flexibility and range of color is such that I kept checking for additional vocal credits, not quite willing to accept that I was hearing the same singer every time.
David D. McIntire - I Care If You Listen
And yet for all its post processing and carefully crafted grooves and textures there emerges this amazingly heavy lightness to the whole recording. The craft and the ideas in this music run deep without overwhelming the sound. It's a startling quality and it's one that invites multiple listening to an expression that explores new directions in studio composition
Devin Hurd
The preludes possess an achingly beautiful quality that fluctuates between passionate and introspective passagework. As I listen to these pieces, I hear the subtle influence of minimalism, harmonies that evoke late 19th century French music, and traces of the best bits of popular music.
Andrew Lee - I Care If You Listen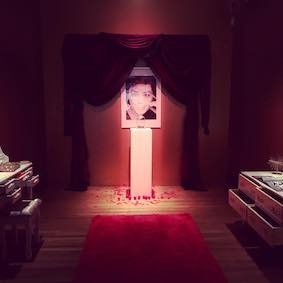 Unknown Celebrity
Sean Redmond, Leah Kardos (2019)
In the Unknown Celebrity, a 1:1 replica of a 'devoted' fan's bedroom becomes the gallery space. The room has a rug, a bed, dressing table and lamp. The walls are golden and red curtains fall down the central wall, where a celebrity shrine is worshipped. Personal items are found in the room: each adorned with the image of the unknown celebrity. Original music plays from a series of discrete speakers. At the centre of the bedroom is the celebrity 'shrine' comprised of candles, a large central photograph of the unknown celebrity, and a plinth with a bell jar containing a treasured celebrity memento.
The celebrity figure found in the room is a composite unknown: a non-descript everybody, but whose ideal face has been created through a software app that renders it by the regeneration of several male and female iconic celebrities in currency today. All the celebrity memorabilia found in the room will have this uncanny face, this nobody's name, adorning it. The room, the shrine, will worship this unknown celebrity: this model citizen. Of course, the person whose room it is, is the one and same unknown celebrity who is being worshipped– a haunting mirror on their own invisibility and hungriness to be noticed. Their self-adoring room guarantees them the ubiquity of model citizenship.
The four separate components of the unknown celebrity's soundscape are designed to be experienced in various locations within the constructed environment. The sonic scenes are haunted by timbres of embedded musical memory, experience and emotion. All compositions are set to a tempo of 60BPM.
Shrine (21'08") is a collage of original vocal recordings, reversed, resampled and stretched.
Mirror (9'20") plays with repetition, feedback, texture, mimicry and multiplicity of a single voice.
Memory (8'17") uses the aesthetics of vaporwave, ambient trip hop and broken tape effects.
Sleep (10'32") is an extended version of a piece originally released on the album Machines (2012), and includes cello parts performed by Catherine Saumarez.
Kick (
2013) - for string orchestra
The name of the piece comes from a short double bass motif occurring throughout that reminds me of an impact or involuntary motion.
In commissioning the work, Kelly really gave me scope to do whatever I wanted but we did discuss initial concepts – we liked the idea of pinching some stylistic ideas taken from the world of record production – in my 2011 album Feather Hammer, I was focusing on timbre, texture and the ambience as much (if not more so) than the notes and harmonies – we talked about using some of the sound world ideas from Feather Hammer to see if any could be translated to score for string orchestra.
Those original concepts provided the starting point for Kick, which quickly took on a character of its own as it grew: after the opening slides into view from a unison D, there is a shimmering tremolo that transforms into a gentle but nervous energy of changing harmonies. Slow, angular melodies cascade between violins and cellos as it grows in momentum, getting 'itchier' as it goes. The nervous energy gathers up into a high register tremble, dissipating against a low drone on D. From the stillness, a single viola and violin tease and converse using a pentatonic scale, while the ensemble swells around them. Angular melodies return in the violins. The music climaxes with a loud trembling tutti, ducking against more violent kicks from the basses. The energy loosens and subsides, all voices sliding back into line with a unison D.
In its final version, and especially in the latter half, Kick is a warm and emotive meditation on simple figures relating to major triads and pentatonic scales. Somehow these musical elements feel very human to me; a sense of naïveté and tenderness. It makes me imagine the sound of prayer; the repeated melody of "mi re do" can feel like saying the words "I love you" over and over again and stroking the face of someone you love.
(Audio excerpt below starts at around 10:00)
The skill and professionalism of this orchestra, and its founder and principal conductor Kelly Lovelady, was clearly evident throughout the performance, not least in their handling of the first piece – a commissioned work from UK-based Australian composer Leah Kardos, Kick. This fantastic piece evoked visions of a sunrise over an outback property, the building melodies of a single viola and violin sounding out like the Australian bush slowly waking and coming to life.
Alex Ivett - The Australian Times