20/09/19 19:38 Filed under:
Work
It was a chance event that led to the formation of the Kingston University Stylophone Orchestra -
Dubreq
, the company that makes the Stylophone, had gotten in touch with me with an offer to donate some vintage instruments to the Visconti Studio archive. This was around the same time that they were
running a competition for their 50th anniversary
, for which Tony was the judge so it seemed like a good idea for all of us to meet up at Visconti Studio.
They came with the vintage instruments (among the items a lovely old
350S
, and the wonderful(ly bizarre)
Piano-Mate
), and a few boxes of standard stylophones. Tony was relaying stories of how he used to record the instrument, and fun ways to process the sound through amps and effects. At some point during the meeting I blurted out that I should 'start an orchestra' and before I really knew what it was that I had said, it was happening.
Then they sent me LOADS of stylophones. Different kinds. And batteries.
Thinking about how to arrange for these sounds, I decided to extend the ensemble to also include a theremin, omnichord, a vocal synth and some Korg Volca units. I bought a 16 channel preamp, a parametric EQ rack unit, and reverb/FX to chain the stylophones through, along with many many mini jack to 1/4" TRS cables. The idea was to
massage
the sound into something that could work as a pad texture, so that the band of stylos could function as a synthetic 'string section'.
I held tryouts in late 2018 and by January we had a group of brave and curious KUSO members regularly attending rehearsal, working on arrangements of Brian Eno, Robyn, Radiohead, Kraftwerk and Vangelis. Just 4 months later we had our first gig at the Stanley Picker Gallery in Kingston. In July we performed at the International Youth Arts Festival, first on an outdoor stage and then at the gala event (where we met with royalty, HRH Prince Edward).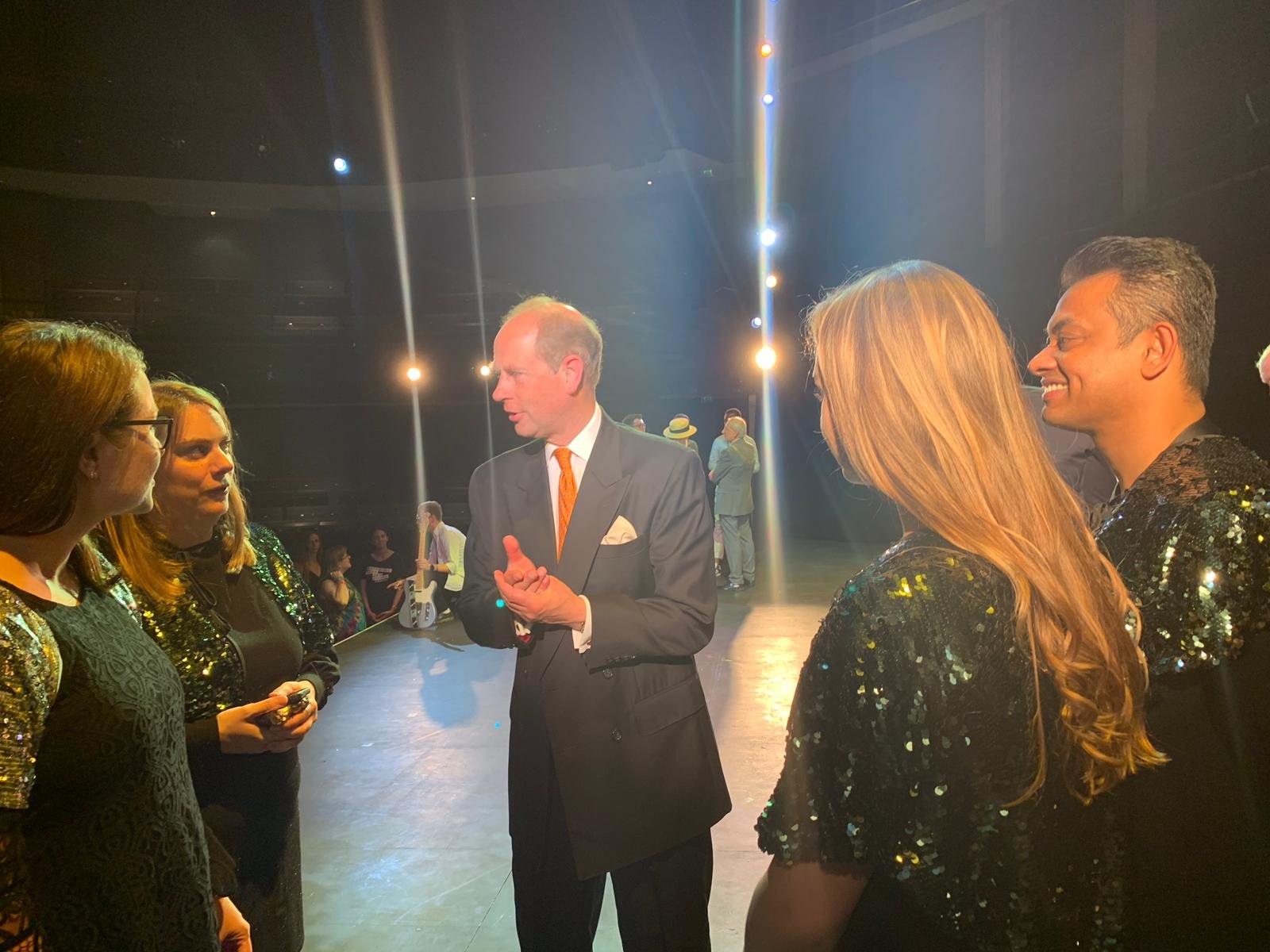 How awesome do we look in our sparkly capes? (
New Look £7!
)
In September the Stylophone Orchestra had an opportunity to record an arrangement of 'Space Oddity' in Visconti Studio, with Tony Visconti producing. Anyone who knows me knows what Bowie means to me so let me tell you I was PRETTY EXCITED. Also QUITE NERVOUS. I thought it was a good choice (other songs I was considering: T-Rex's 'Cosmic Dancer' and Bowie's 'Warszawa'). 'Space Oddity' won out in the end because it's obviously such a legendary stylophone track, and this year (2019) is its 50th anniversary. Of course Tony Visconti himself produced the original
Space Oddity
album in 1969… so y'know, no pressure.
Marcella and John from Dubreq came down for the day, and they made some custom T-shirts for us. They also brought a prototype of their new synth, the
Gen R-8
, which we used for one of the solo parts in the arrangement. Later that same day Tony asked us to perform a special arrangement for a track on his new solo album called 'Politics'. After this day I told the group that not only were we the best (only) Stylophone Orchestra on the planet, we were also the world's best (only) 'professional session Stylo ensemble', and that everyone should immediately update their LinkedIn profiles to reflect this.
Now a new academic year has started, we've welcomed 5 new members to our ranks, and I'm busy sketching out some new arrangements. I think we're going to tackle some classical music now, and more original songs written by our talented members. I can't wait to see where this weird little project takes us next.
Follow us on Instagram
. Also, we're looking for cool gigs - get in touch if you'd like us to play your event!
-----